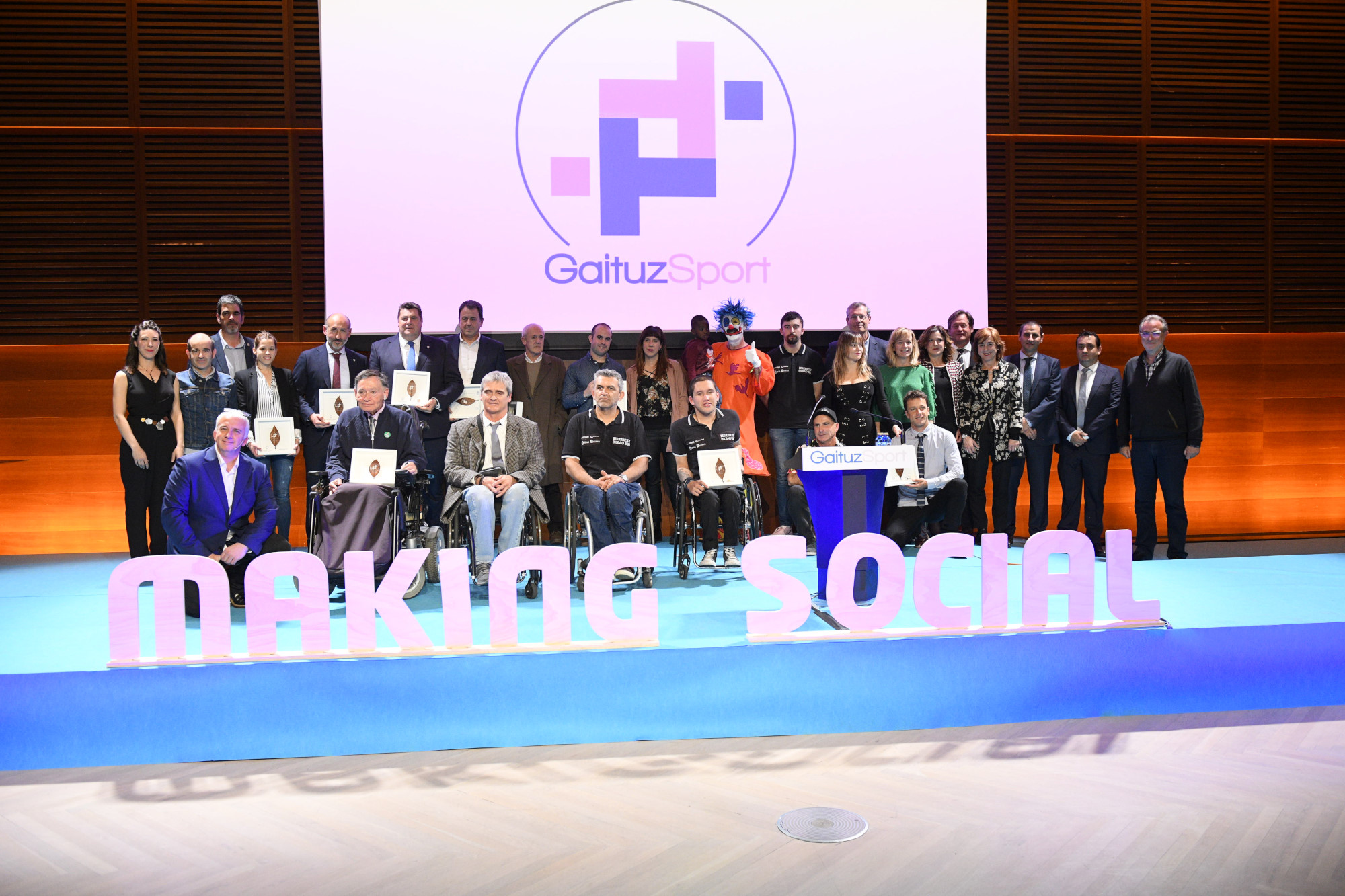 The First Division Basque Football Clubs: Real Sociedad, Athletic Club de Bilbao, S.D. Eibar and Deportivo Alavés; Kosta Trail Race; Gipuzkoa Surf Federation 'FederArte Festibala'; Bidaideak Bilbao BSR wheelchair basketball; and Joxe Agirretxe and Bizipoza, received the GaituzSport Awards.

Mikel Izaguirre received the special GaituzSport Award in recognition for his career of over 40 years fostering adapted sport and inclusion in Gipuzkoa.

The Inclusive Night, which could be followed live via streaming, was attended by 200 people from different walks of life, with great institutional presence and support.

Performing at the event was: deaf dancer – Iván Navarro with dancer – Iris Vázquez; with Porrotx and Bizipoza providing humour to finish the event.
The Kursaal Donostia – San Sebastián was 'stained' blue to hold the  4th edition of 'The Inclusive Night – Gau Inklusiboa' with GaituzSport Award-winning ceremony.
INCLUSION was the star of this event organised by GaituzSport Foundation and the Basque Adapted Sports Federation, with the latter's sponsorship. The aim is to acknowledge and drive the exemplary work of people and bodies to achieve a fairer, more equal and inclusive society via Physical Activity and Sports.
'The Inclusive Night' is held yearly in one of the Basque capitals, and this year's edition was sponsored by the Basque Government, Donostia – San Sebastián City Hall, Gipuzkoa Provincial Council and Laboral Kutxa, for whose support and awareness we are grateful.
Versatile actor and scriptwriter Óscar Terol and actress Alazne Etxebarria were the splendid masters of ceremony for a great night full of emotion and diversity.
The Night's First Performance with a Good Rhythm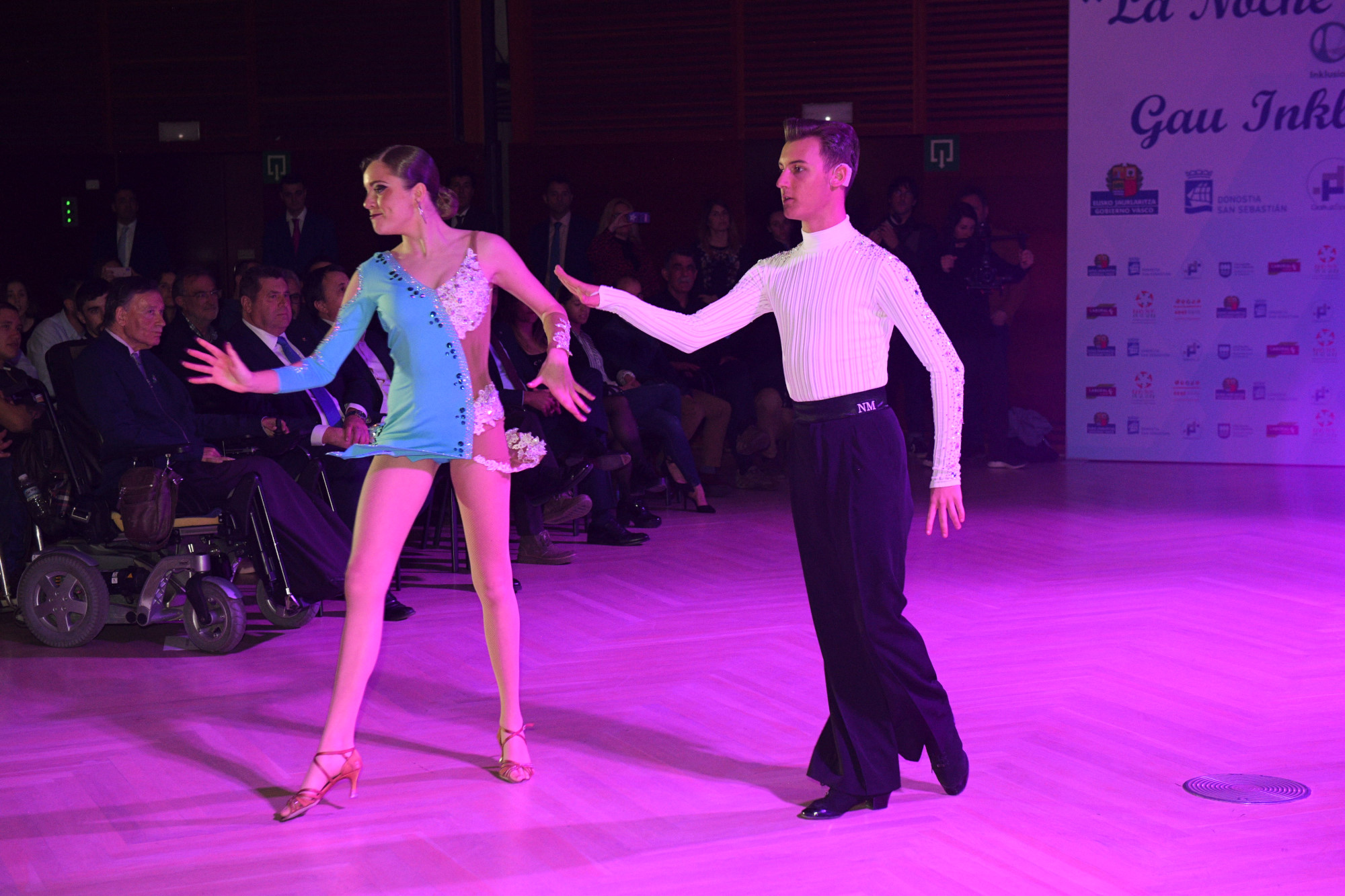 The Inclusive Night couldn't start better than with the great dance routine by Iván Navarro, profoundly deaf since birth, with dance partner Iris Vázquez.  The pair competes in the Sports Dance discipline in Latin and Standard dance categories.
Iván, who's been wearing cochlear implants since he was 18 months' old, is an example of self-betterment, since despite being 47% disABLED he's managed to become fully integrated, and dancing is 'his support and injection of self-esteem'. After winning several awards and grants, he's currently training for the Spanish Championship with his dance partner. They offered a great routine to the sound of Chayanne.
  GaituzSport Chairman's Speech
Next, the presenters invited the host for the evening Porfirio Hernández Zubizarreta, Chairman of GaituzSport Foundation and Basque Federation for Adapted Sport, on to the stage. After thanking all the attendees for their presence, his speech centred on inclusion: "Why do we want to work for an inclusive society? Our answer should be clear and determined, to contribute to the generation of a Community without differences. To achieve this, we must shine the spotlight on Social Transference, which we do via physical activity and sport, two very powerful socializing tools", stated Hernandez Zubizarreta, who went on to add: "This is our job at GaituzSport, we're the 'tool' which facilitates resources to make this inclusion in the world of sport possible."  
GaituzSport Prizewinners' Ceremony
1.-  GaituzSport  Award  for Joxe Agirretxe and Bizipoza Association, for good inclusive practices outside the world of sport, fostering respect for diversity, social integration, solidarity and support for children and their families, in collaboration with a large number of associations. To quote Agirretxe, known as 'Porrotx': "Being a clown is a constructive respectful and positive way of life."
Donostia – San Sebastián Mayor, Eneko Goia, handed the Award to Joxe Mari Agirretxe and on behalf of Bizipoza, it was received by, Leire Elizegi, Amaia Irazusta and Ramón San Sebastián.
2- GaituzSport Award for good inclusive participation practices for the initiative Gipuzkoa Surf Federation 'FederArte Festibala', in collaboration with the Basque Surf Federation; for fostering inclusion in Surf among people with and without disABILITY, equality and respect for the environment.
Javier Cortajarena, Laboral Kutxa Commercial Director, handed the Award to Maialen Sáez, Gipuzkoa Surf Federation Chairwoman.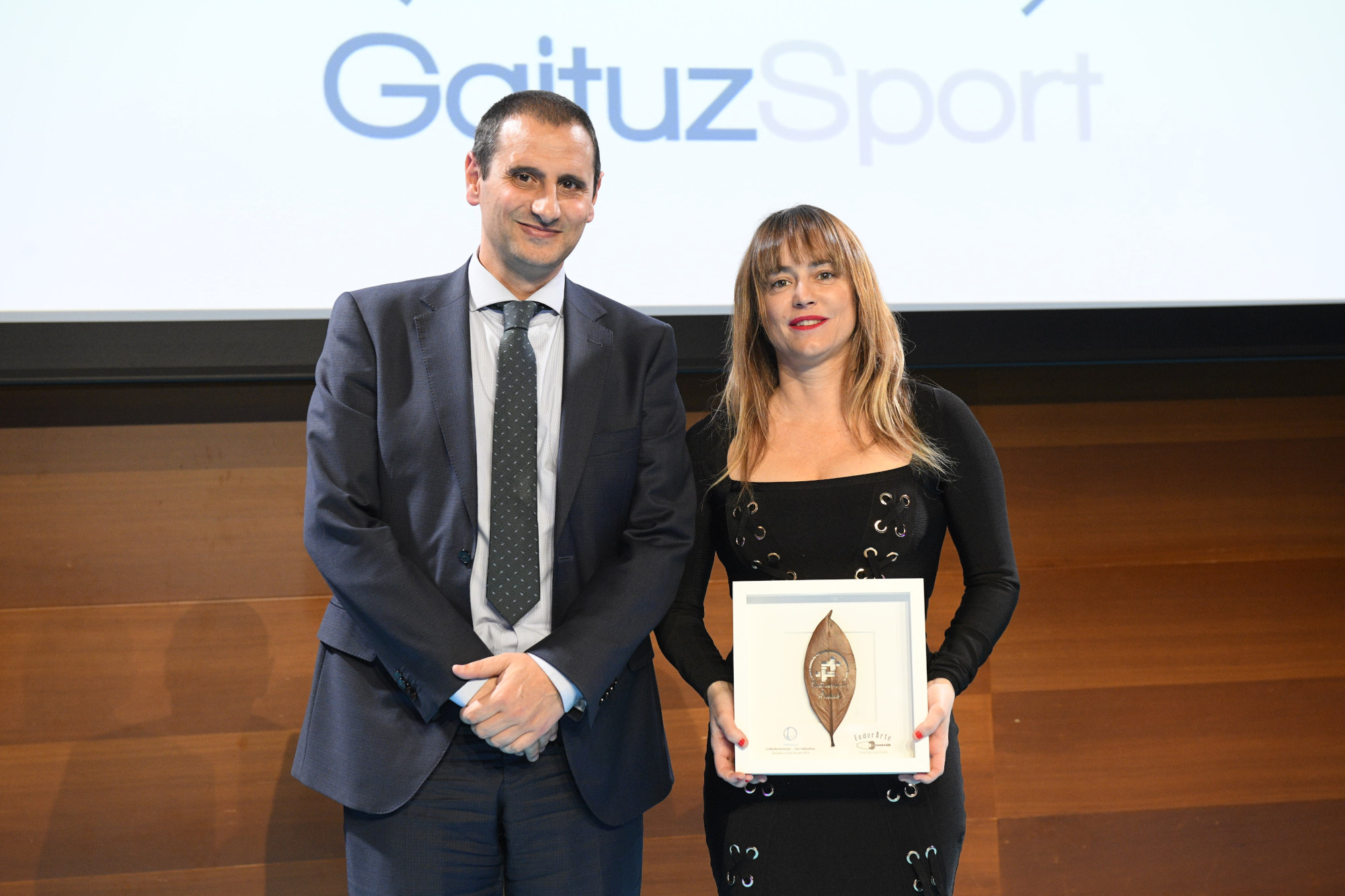 3.- GaituzSport Award for Elite Competition Adapted Sport to Club BIDAIDEAK BILBAO BSR, wheelchair basketball, for their sporting successes in the last 2 seasons besides being an example of values and fostering enthusiasm.
Beatriz Artolazabal, Employment & Social Policies Minister handed the Award to Txema Alonso, Bidaideak Bilbao BSR Chairman accompanied by the players José Manuel Centeno, Patxi Suárez and Xabi Iragorri.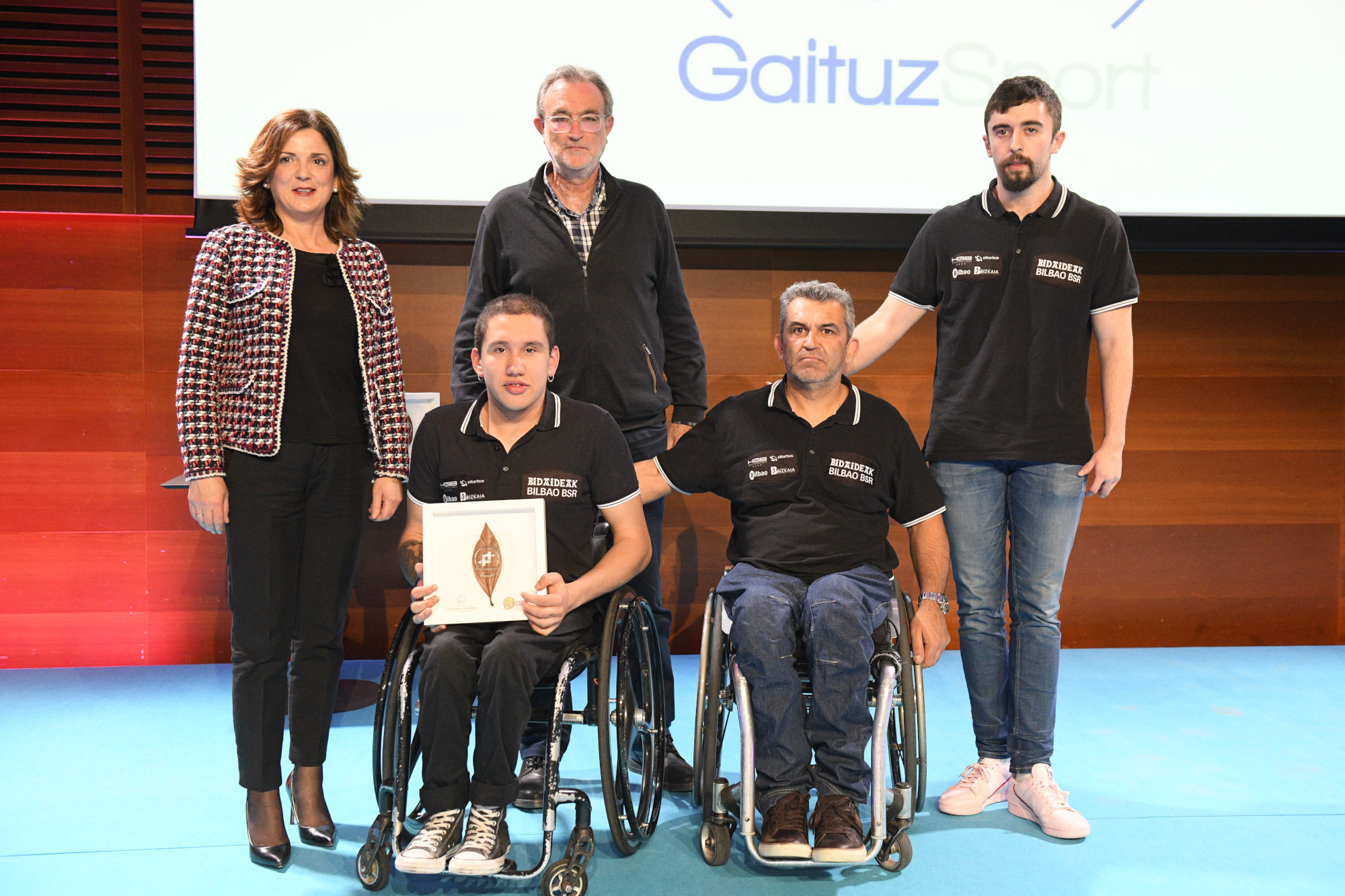 4.- GaituzSport Award for bodies promoting inclusion for the 4 First Division Basque Football Clubs: Real Sociedad, Deportivo Alavés, SD Eibar and Athletic Cub, for encouraging the participation of people with disABILITY in football via the Genuine League.
The Education Minister  Cristina Uriarte, and the Culture & Linguistics Policy Minister  Bingen Zupiria, handed the Awards to the Clubs' representatives, namely: Real Sociedad Deputy Chairman collected the Mikel Ubarretxena Award, Luis Querejeta, Director of Deportivo Alavés Foundation 5 + 11 collected the Award for Deportivo Alavés, Deputy Chairman of SD Eibar Foundation, Mikel Larrañaga collected the Award for SD Eibar; and on behalf of Athletic Club, the Award was collected by Aitor Elizegi, Chairman of Athletic Club de Bilbao, accompanied by Juan Carlos Ercoreca, Athletic Club Foundation Chairman, and coaches Eli Ibarra and Esteban Feijoo.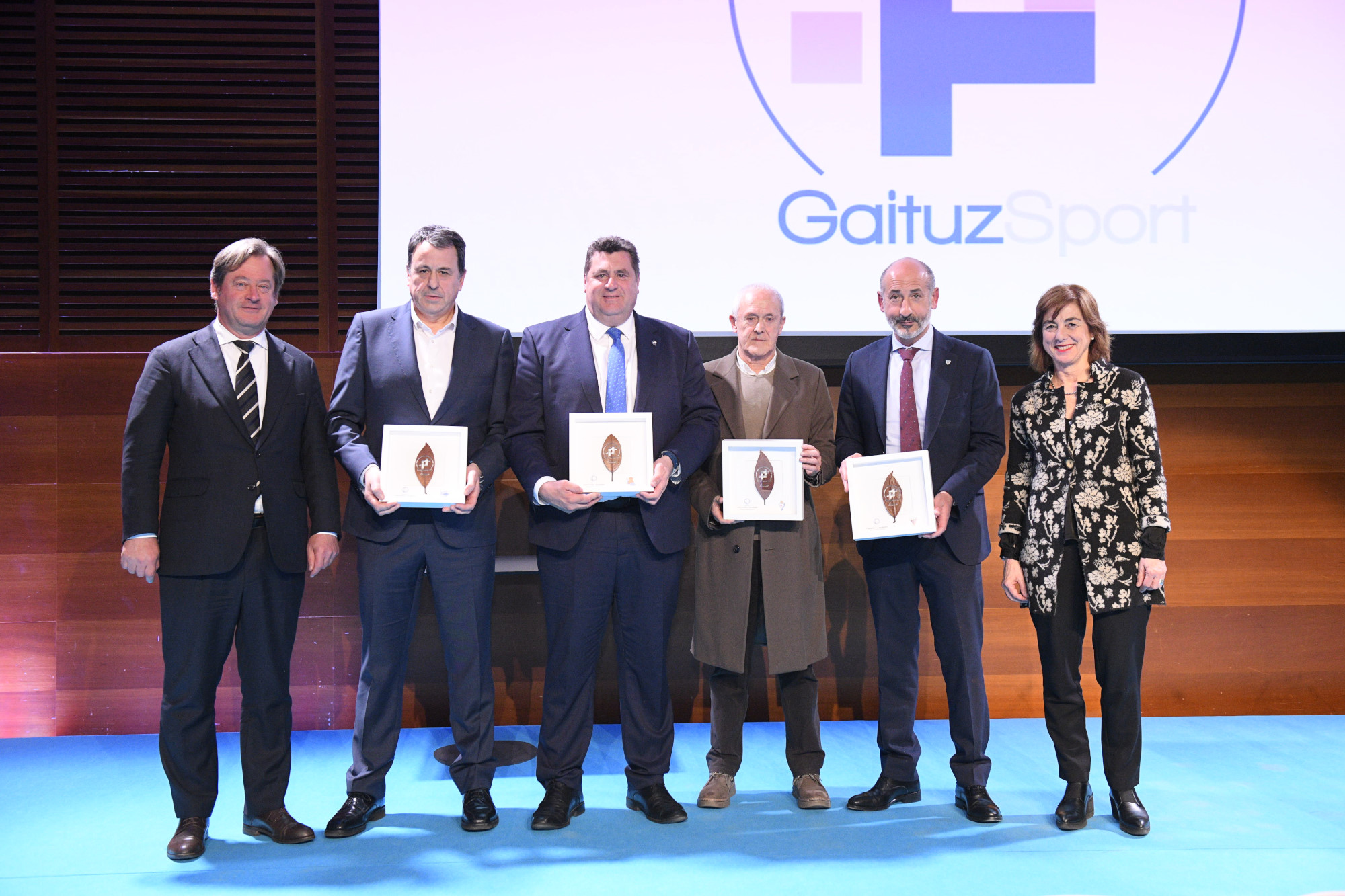 5.- KOSTA TRAIL RACE, organised by Forum Sport, received the GaituzSport Award for good competition inclusion practices, for being an example of inclusion and participation of people with and without disABILITY for 14 years; in addition to fostering healthy habits and solidarity in society.
Eider Mendoza Larrañaga, Chairwoman of Gipuzkoa Provincial Council, handed the Awarded to Jesus Beamonte, Director Forum Sport Communication & Advertising and Izaskun Casas, of Forum Sport Advertising Department.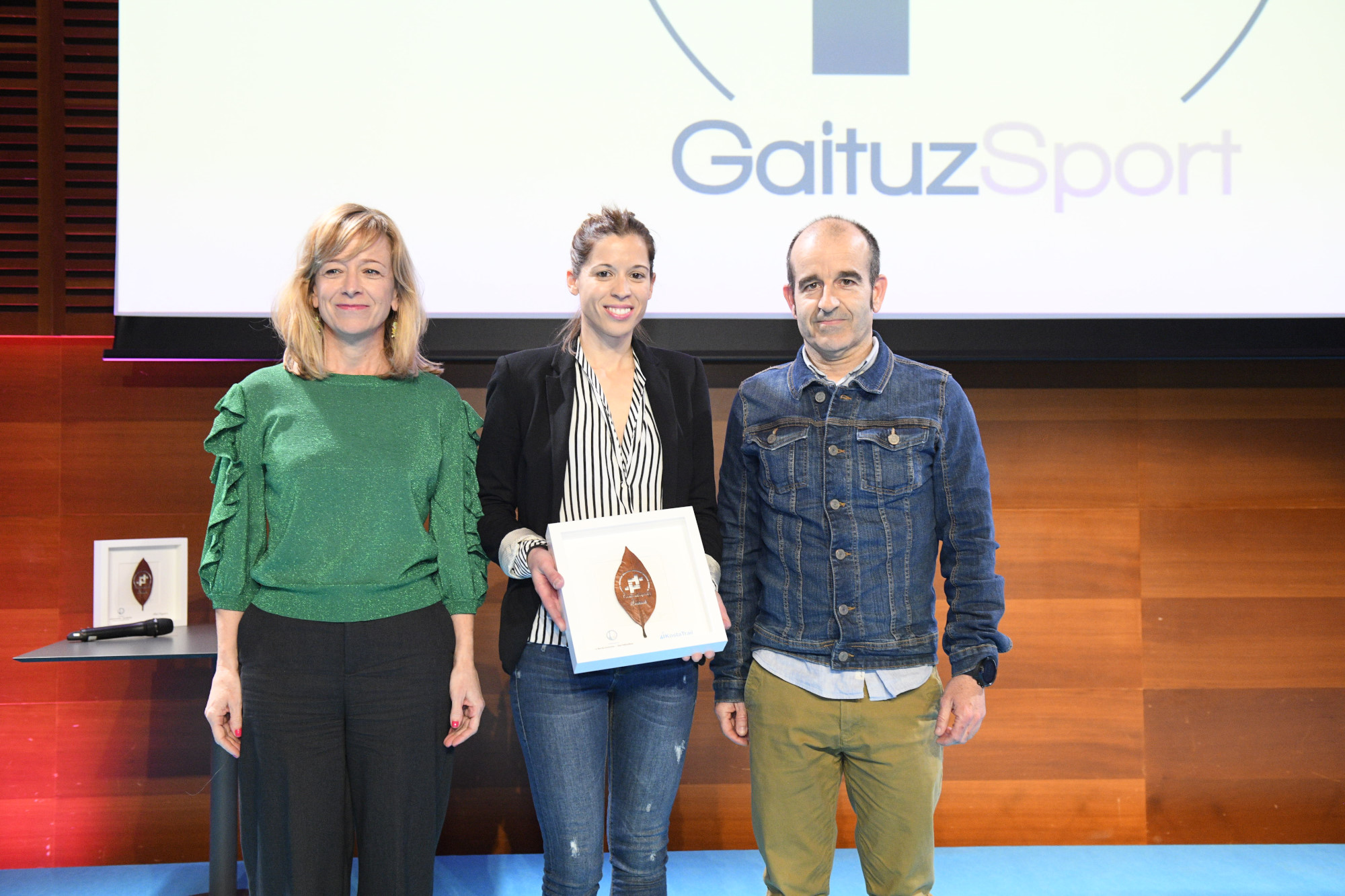 6.- MIKEL IZAGUIRRE, received the Special GaituzSport Award for his career spanning over 40 years, dedicated altruistically and enthusiastically to driving and fostering adapted sport in Gipuzkoa. A person of reference for his knowledge and human values.
The most moving moment of the night when Mikel received the Award at the hands of Gizpukoa Head Provincial Councillor, Markel Olano.
Despite being affected by muscular dystrophy (a degenerative disease), this has not prevented him from carrying out his activities untiringly. His achievements include: creation of INDAR Sports Club in the 1990s, the first wheelchair basketball team in Gipuzkoa; accepting the challenge in 2003 to create the Gipuzkoa Adapted Sports Federation; being the key person in the Inverted Inclusion Project, i.e. Hegalak Sports Centre and Hegalak Zabalik Foundation due to his knowledge; and in 2011 he founded the Adapted Sports Club MINDARA in Rentería.
In his speech, Mikel Izaguirre shared the following with the public: "I'm 96% disABLED, I'm my body's slave, but sport has let me dream ….. I've been a wheelchair pelotari. I've been what I wanted to be, and I've done this with others; and that's been my greatest enjoyment in life", and concluding by highlighting the importance of inclusion with this statement:  "A person's value is measured by their dreams".
The attendees gave him the night's great standing ovation.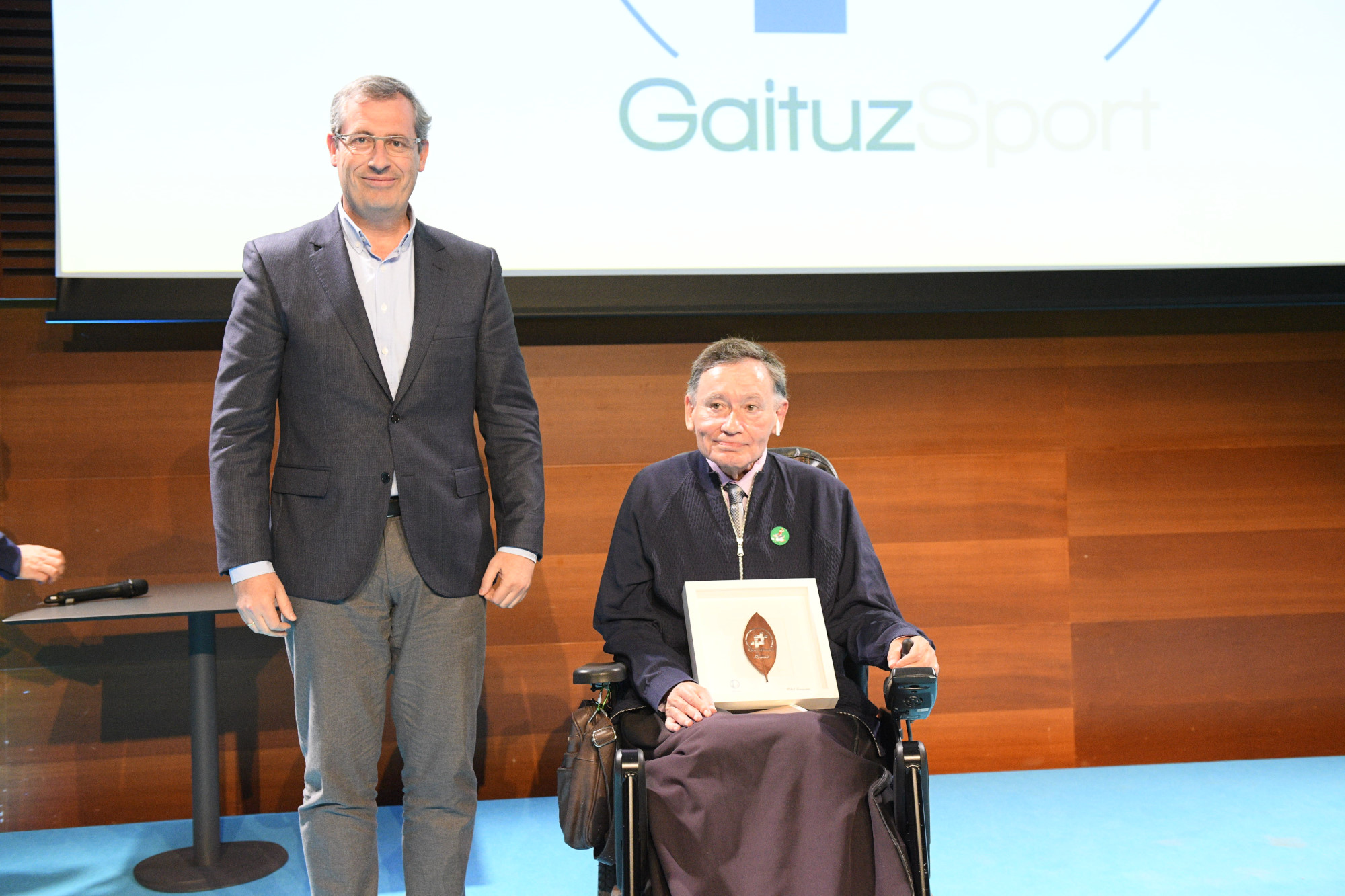 For An Inclusive Society
200 people from all walks of life attended the great inclusion night of sport, whose great institutional support is worthy of note, with the attendance of: Donostia San Sebastián Mayor, Eneko Goia; Markel Olano, Gipuzkoa Head Provincial Councillor; Chairwoman of Gipuzkoa Provincial Council, Eider Mendoza Larrañaga; Minister of Employment & Social Policies, Beatriz Artolazabal; Minister of Education, Cristina Uriarte; and Minister of Culture & Linguistics Policy, Bingen Zupiria.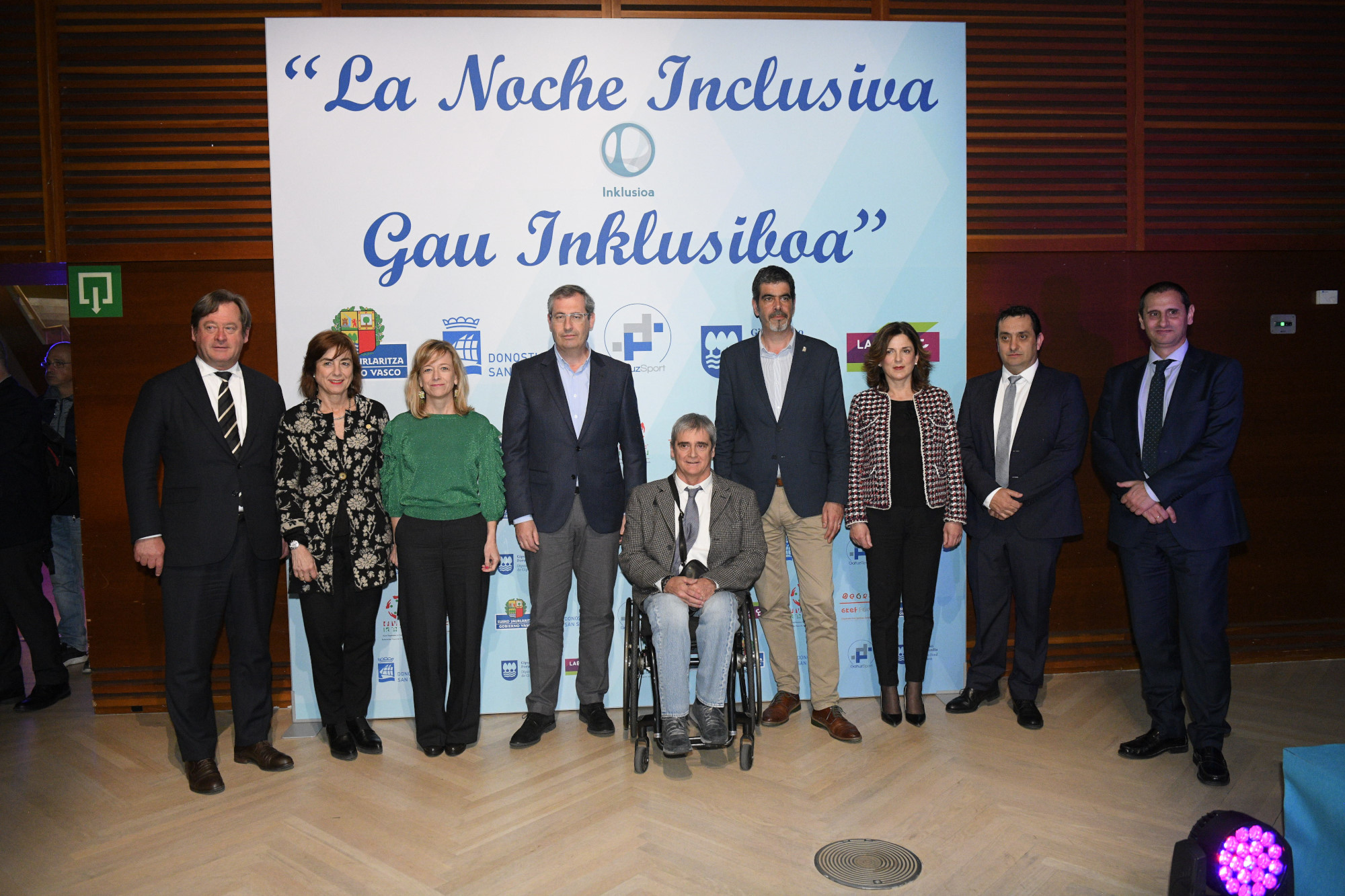 Also attending were: the Deputy-Ministers: of Culture, Maite Alonso and Social Policies Lide Amilibia; Jon Redondo, Sports Director; Emilio Sola, Social Affairs Director; Mayor of Zarautz, Xabier Txurruka; Deputy Mayor of Tolosa, Patxi Mintegi; Parliament member Rebeka Ubera;  Donostia – San Sebastián City Councillors: Alfonso Gurpegi and Ane Oyarbide;  Beatriz Marcos Bilbao City Councillor; and Mikel Antizar, Barakaldo Social Action Councillor.
Laboral Kutxa was represented by: Javier Cortajarena, Commercial Director and Joxe Murua, Director of Donostia Head Office.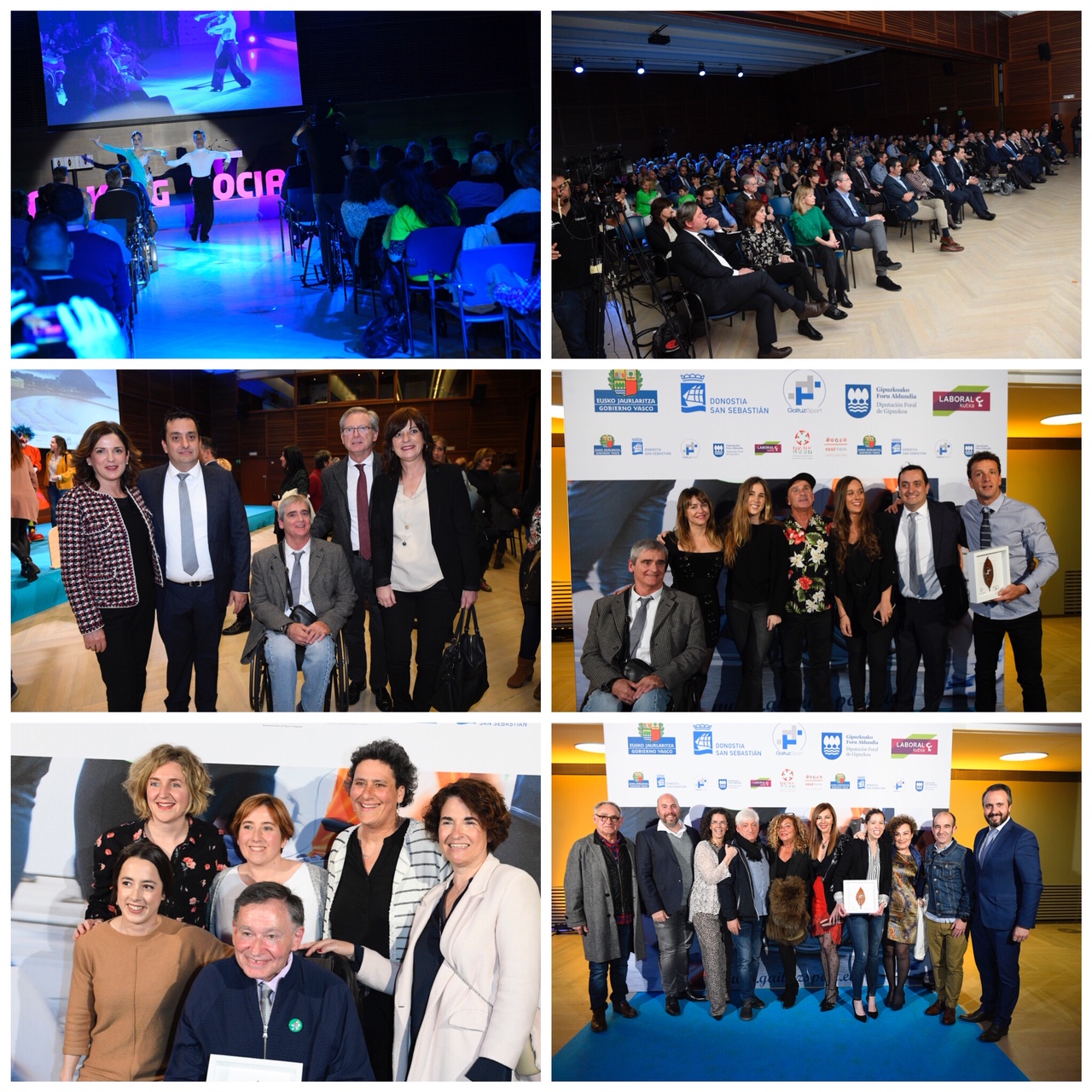 And the world of sport was represented among others by: Alberto Álvarez, Chairman of the Spanish Adapted Sports Federation; Aitor Elizegi, Chairman of Athletic Club; Juan Carlos Ercoreca, Chairman of Athletic Club Foundation; Mikel Ubarrechena, Deputy Chairman of Real Sociedad; Director of Deportivo Alavés Foundation 5+11,  Luis Querejeta; Mikel Larrañaga, Deputy Chairman of SD Eibar Foundation; Txema Alonso, Chairman of Bidaideak Bilbao BSR;  surfers Axi Muniain and Aitor Francesena;  and José Manuel Centeno, Patxi Suárez and Xabi Iragorri, Bidaideak Bilbao BSR players.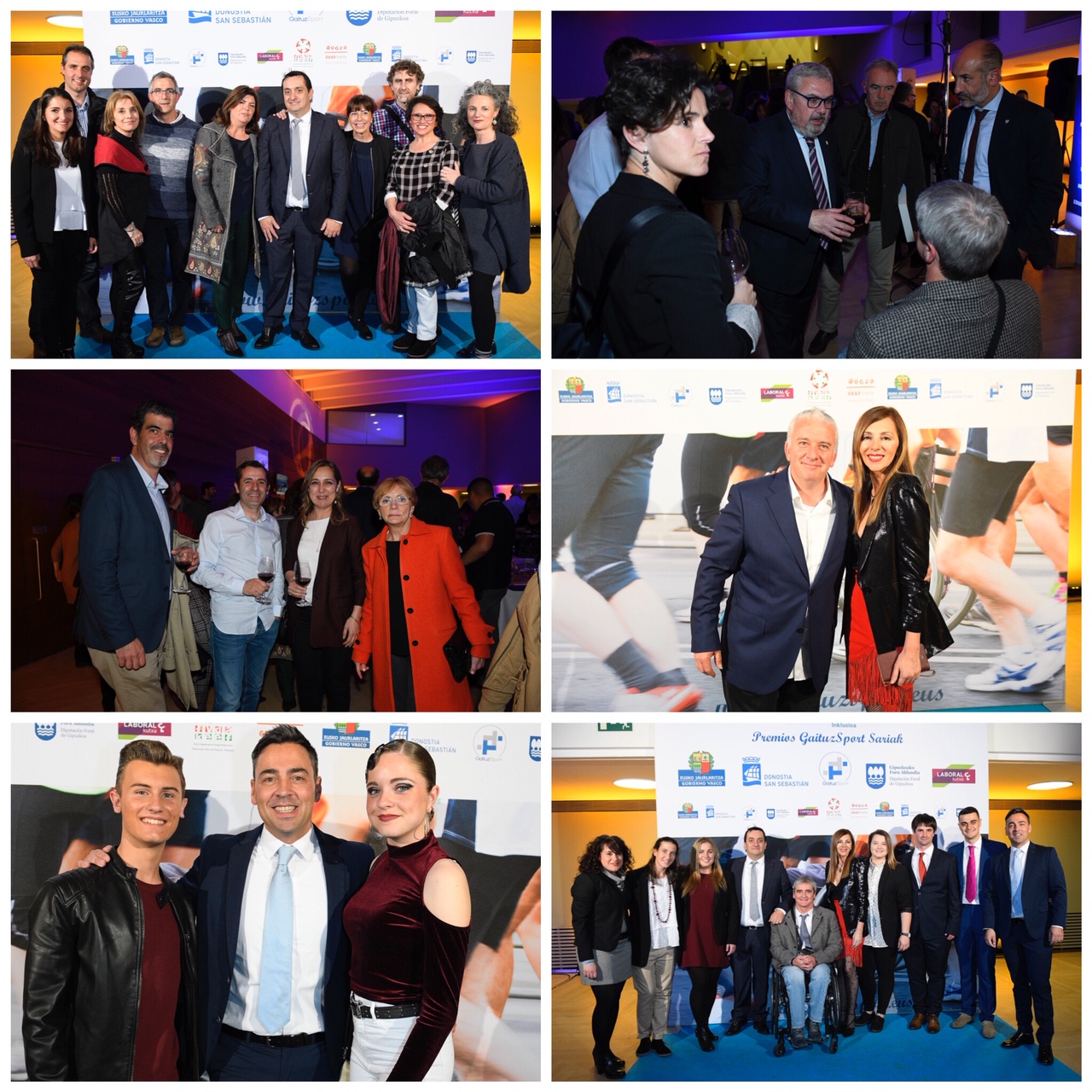 Last performance by Porrotx and Bizipoza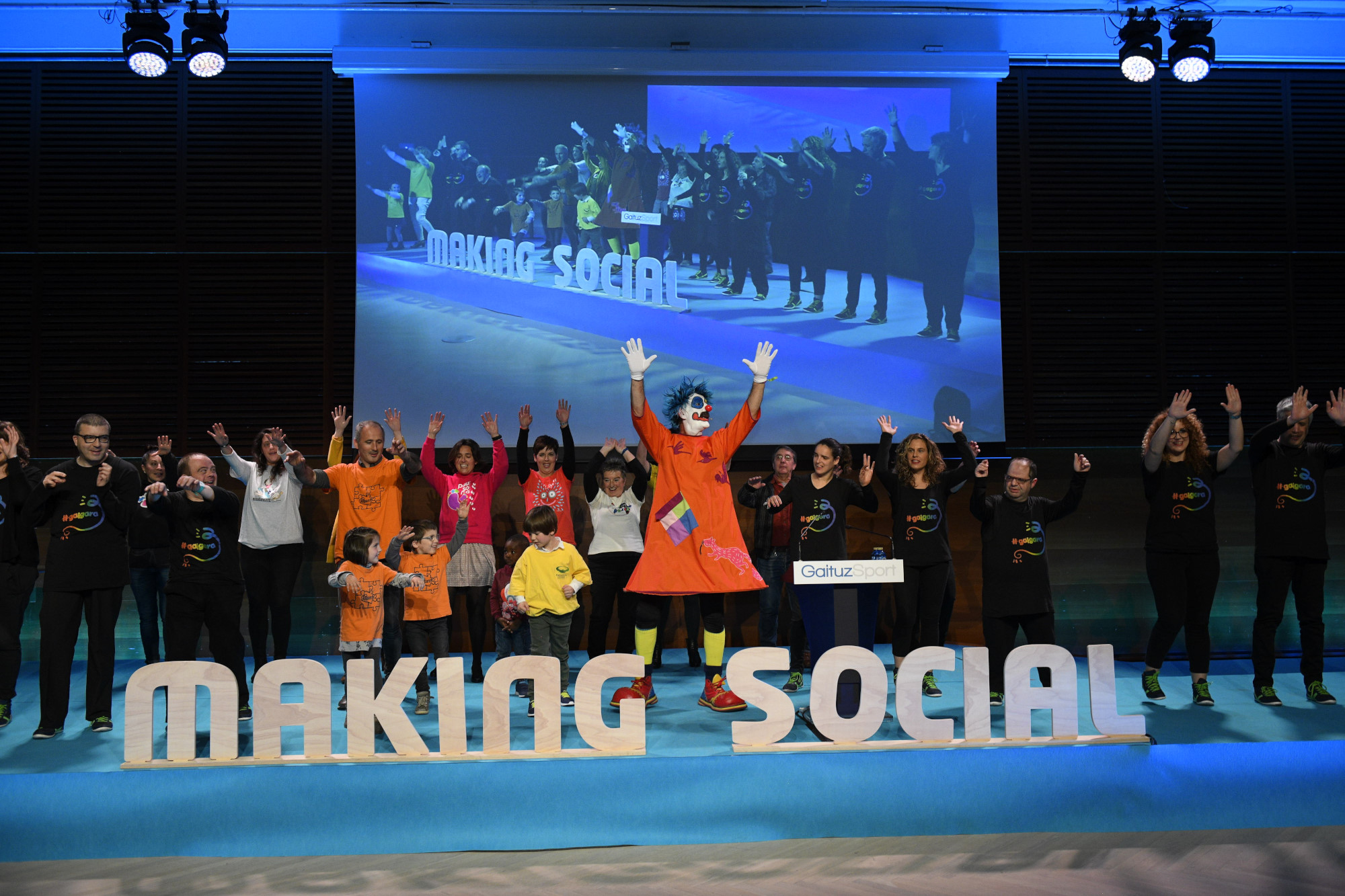 The last performance of the night was at the hands of Porrotx, accompanied by 20 members of Bizipoza from different associations, filling the stage with diversity, joy and colour, singing and dancing to the song 'Pausoka'.
Óscar and Alazne, magnificent masters of ceremony for the event, called for the family photo, and ended the 4th edition of the Inclusive Night encouraging attendees to enjoy the cocktail accompanied by music awaiting them.
The next edition of 'The Inclusive Night' will be in Vitoria-Gasteiz; however, that's another 'story' to be told…
Our most sincere THANKS go to the: authorities, sponsors, attendees, not to mention the Presenters. Congratulations and thanks to the award winners for their work in favour of inclusion.
You can watch the video of the 4th edition of 'The Inclusive Night – Gau Inklusiboa':