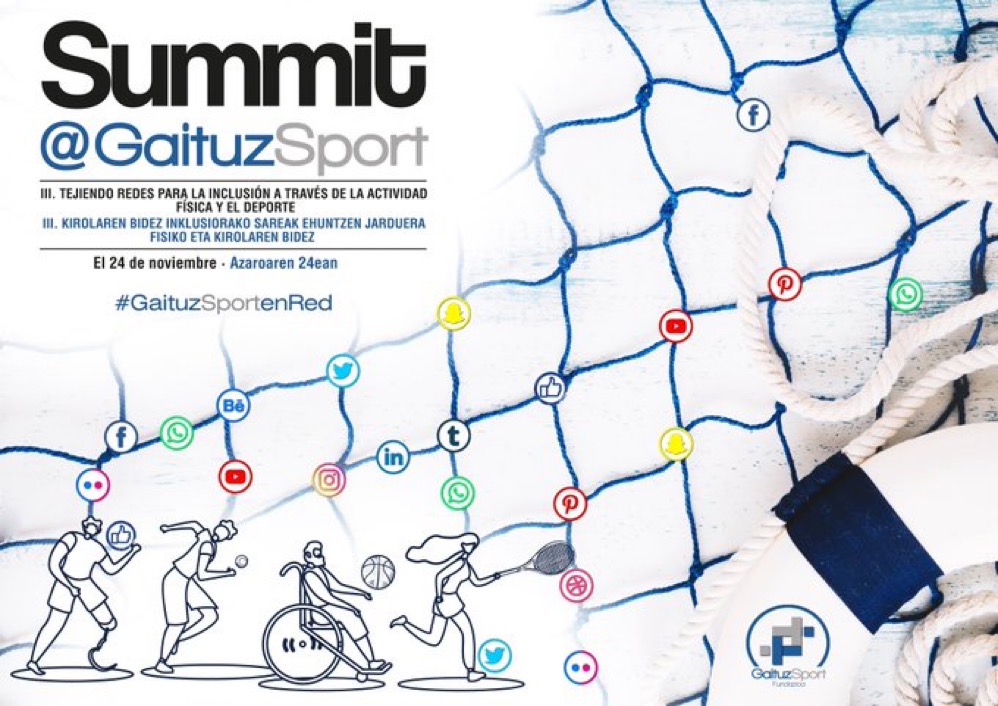 GaituzSport will hold the 3rd "Weaving networks for inclusion via Physical Activity and Sport" Summit an innovative, dynamic and interactive forum to discuss, analyse and share knowledge and experiences on 24th November.
 The Iberdrola Tower in Bilbao is the venue for this event sponsored by the Basque Government, Bizkaia Provincial Council, Laboral Kutxa and Kirolene.
Physical Activity and Sport are powerful inclusion and socialisation tools for everyone; and among other aspects in this analysis and reflection space, a general "in-depth analysis" regarding inclusion and disABILITY in our society will be made. The encounter will be moderated by Xabier Leizea, Chairman of GaituzSport and Teacher at Kirolene, together with health journalist, Marta Fernández Rivera, GaituzSport Communications & Marketing Manager.
 ONE EXPERIENCE & 2 ROUNDTABLES
The Summit starts at 11:00am and comprises an Experience and 2 roundtables with important expert speakers in the field of inclusion. The first roundtable will lend its voice to social agents with different transversal perspectives, whereas, the second will be about personal experiences and testimonies so we can discover the human factor behind inclusion through Physical Activity and Sport.
The Summit conclusions will be subsequently shared in a summarised document on GaitzuSport social networks.
This 3rd edition of the "Weaving networks for inclusion via physical activity and sport" Summit has places for attendees; however, you can follow and take part via real time streaming with questions or comments using the hashtag #GaituzSportenRed.
The encounter will finish at 1:30pm followed by a cocktail – networking.
IF YOU'RE INTERESTED IN ATTENDING AND TAKING PART PLEASE COMPLETE THE FOLLOWING REGISTRATION FORM.
We're waiting for you to continue weaving the inclusion network!