"Sport is a great social integration channel"
"We have to make it possible for the disabled to take part in general activities as citizens with full rights"
"We need commitment from the institutions to achieve social change"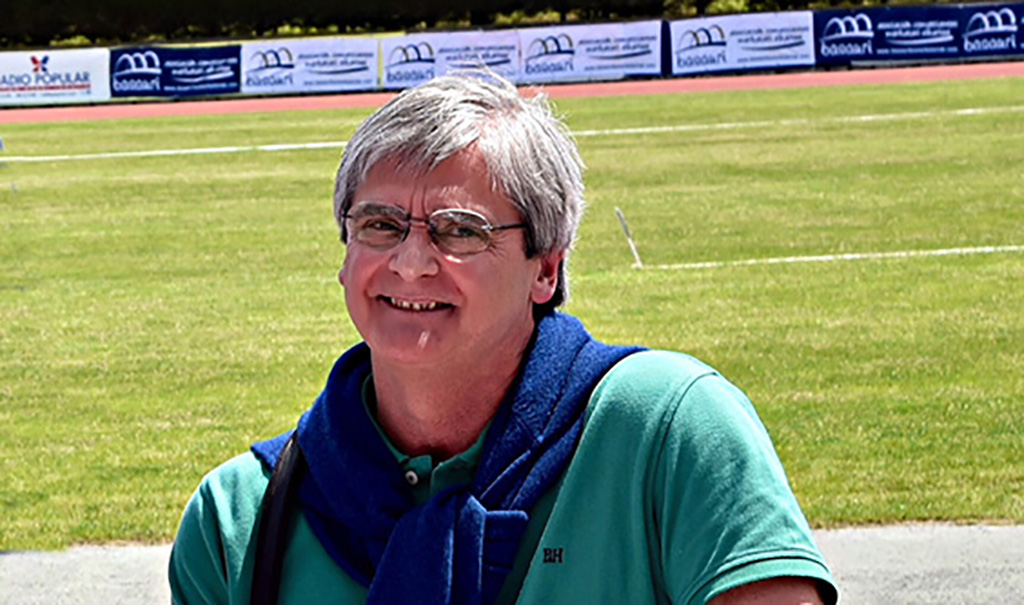 Hernández Zubizarreta, a reference in the world of adapted sport, declares "our collective was until recently invisible, and the unknown causes fear and fear rejection".
Porfirio Hernández Zubizarreta is Chairman of the Basque Adapted Sports Federation, Deputy Chairman of the Spanish Sports Federation for the Physically Disabled and member of the Basque Sports Committee. In addition, he leaders our GaituzSport Project with work, knowledge, hope and realism. The aim is "to advance in the social inclusion of everyone".
Porfi, as he's called by those who know him, is a reference in the world of adapted sports, besides being an essential part of his life, since he states that "he doesn't understand life without sport". He's done sport since he was very small and it helped him deal with polio which he was diagnosed with at just 3 years old.
Our chairman's a man that knows a lot about sport, and psychiatry a profession he has exercised, and life. These moments of conversation with Porfi result in reflection and learning spiced with friendliness and awareness.
And this post which is the first in our GaituzSport blog which we heartwarmingly welcome arose from a conversation.
How did the GaituzSport project come about and why?
This project came about as a reflection from a heterogeneous group of people linked to adapted sport, (instructors, technicians, agents, chairperson, etc…), who collaborate with Basque Adapted Sports Plan 2015 – 2016, with different Basque Government departments. A reflection which covered a wider space; however, it detected other needs, i.e. to cover non-federation activities. That is, what people do as entertainment, health, relation, quality of life, etc.
In said Plan it was evidenced the need to bring disabled, functionally diverse population closer with the double target of fostering physical activity – sports and making the general population aware of the disabled; not to mention favouring social inclusion basing us on the positive values of sport and showing the "capability" of the disabled. Inclusion is the core of our action.
Apart from the benefits physical activity and sports have for our physical and mental health, are they also efficient tools for social integration?
It's probably one of the best spaces for integrations. There are many highly satisfactory experiences in this sense for us to confirm the foregoing. That said, it's important for these experiences to stop unique isolated experiences of great value so that integration because an inclusive reality in the life of this our nation.
The real inclusion of everyone is still a pending question. What can we do to advance?
Undoubtedly. There's still the huge step of turning these experiences into a habit of normalisation, so the disabled can participate with full rights in general activities; and that projects like GaituzSport are no longer necessary and that inclusion is no longer a target to become an absolute reality.
From your personal experience, what has sport given your life?
I contracted Polio when I was 3. Since I was a child and thanks to a brave family and an embracing inclusive environment I did all kinds of sports (swimming, surf, tennis, frontenis, spearfishing, cycling, etc.) and I did it all as if absolutely normal, it wasn't until I was considerably older and almost because they forced me to see, that I unfortunately realised is something extraordinary.
Later, when I was older and federation affiliated I've played wheelchair basketball, wheelchair table tennis, canoeing and now wheelchair paddle tennis.
I can't understand life without doing sport. It's been so important for me that many aspects of my character and way of being are engraved in its heart. And with that I've told you just about everything…
How do you value an advanced society like ours, the Basque Country where the disabled or functionally diverse are unable to do physical activity or sports in equal conditions?
Can you imagine?! If it's important for me, I find it very hard to understand how reality needs so many adjustments. That said, I have to say this society is open and little by little it's modifying habits which are outmoded in many ways. Changes are hard, and it's a long hard task requiring the aid of society in general, but more specifically from public bodies as having the maximum responsibility, likewise the structures which support and where people with some disability take part.
Is there a lack of knowledge among the general population regarding the needs of people functional diversity?
Yes, absolutely! It's very difficult to put yourself in somebody else's skin and recognise all his/her experiences and needs. The unknown generates fear and fear rejection. Until fairly recently, we weren't even visible, whereas as now we are more and more. Also as I've already said we're a friendly nation willing to learn and understand, but our drive is also necessary, I mean, you know that we're there and that we have to explain our needs a thousand and one times…
Institutional Commitment to social CHANGE
President Iñigo Urkullu has shown you his support and publicly for the work we do at GaituzSport, How do you value this?
Well, what I'm about to say will sound like "brown-nosing" but I don't give a damn. It's what I feel and think. Our President Urkullu has been our greatest support from the word go. Without adulations or nonsense, simply clear and matter of fact, the way he is. To be honest, I was amazed at how quickly he got the message and how consistent he's been in his support. All I can say is thank you.
Porfirio Hernández Zubizarreta talking to President Iñigo Urkullu, at the 3rd edition of the GaituzSport Awards.
As chairman and driver of GaituzSport, How do you explain the great advance and growth of this project in the last year?
Time has proved us right, the diagnosis we made at the time was true and the needs many. It's the symptom of having detected an important need among a citizens' collective, for whom the values mentioned before, i.e. health, socialisation, quality of life, etc., are particularly important. As with the rest of the population I'm convinced that turning physical activity into a habit leads to a lesser need to consume health services which is good for everyone.
What are the main short-term aims?
Get the public administrations involved (Basque Government, Provincial Councils, Town Councils, etc.) in this project. And I'm not talking about money, I'm talking about commitment to drive social change, which is what's really important. We don't want new services without having used the existing in all their amplitude. The aim is to optimise existing resources, and that's possible.
If you'd like to add something else…
I'd just simply like to thank all the people who are committed to this dream, the workers for their enormous involvement, not to mention the many entities which are working side by side with us. Thank you to all the people who every day join this inclusive project as an advance of this modern society.