Kosta Trail organised by Forum Sport, which goes through Uribe Kosta, is the first sea-level mountain race, furthermore, it fosters: sport, healthy habits, inclusion and solidarity.

In this edition part of the money raised through sign-ups will be donated to the Foundation GaituzSport Fundazioa, which encourages of Physical Activity and sport among the disABLED and ABLE-bodied in equal conditions.

In this year's edition there are 3 modalities: Mountain Half Marathon, Mountain Hike and Family Hike.

Last year's edition beat its participation record with over 4,600 people.
  The 14th edition of Kosta Trail, a popular charity race whose route passes through incomparable beauty sports along the Bizkaian coast, returns with its unbeatable festive atmosphere on 9th June for trail running and mountain hiking enthusiasts.
This is the first sea-level mountain race whose route covers the impressive clifftops and paths of Uribe Kosta, with different types of ground, i.e. earth, sand and asphalt, and is acquiring more adepts every year. Proof of this, was last year's edition which broke a new record of participation with over 4,600 people taking part.

Sport, healthy habits, inclusion and solidarity
From the outset, Kosta Trail has had charitable aims. Thanks to all the participants the organisation will donate part of the money raised through this year's 14th edition sign-ups, to the programmes which Foundation GaituzSport Fundazioa undertakes to foster Physical Activity and Sport among the disABLED and ABLE-bodied in equal conditions.
GaituzSport is a platform which generates Community, endowing it with the necessary human and material resources, supports and adaptations required so people can do physical activities according to their needs; and always from an inclusive perspective that respects diversity.
An advanced society should ensure the inclusion of all collectives and sport is a great integration channel. Our hallmark is 'Making Social' for the inclusive healthy development of society, taking into consideration: social, sporting, health and educational aspects.
The disABLED taking part in GaituzSport programmes improve their quality of life, physical and mental health, not to mention their self-esteem, personal autonomy and social integration.
  Modalities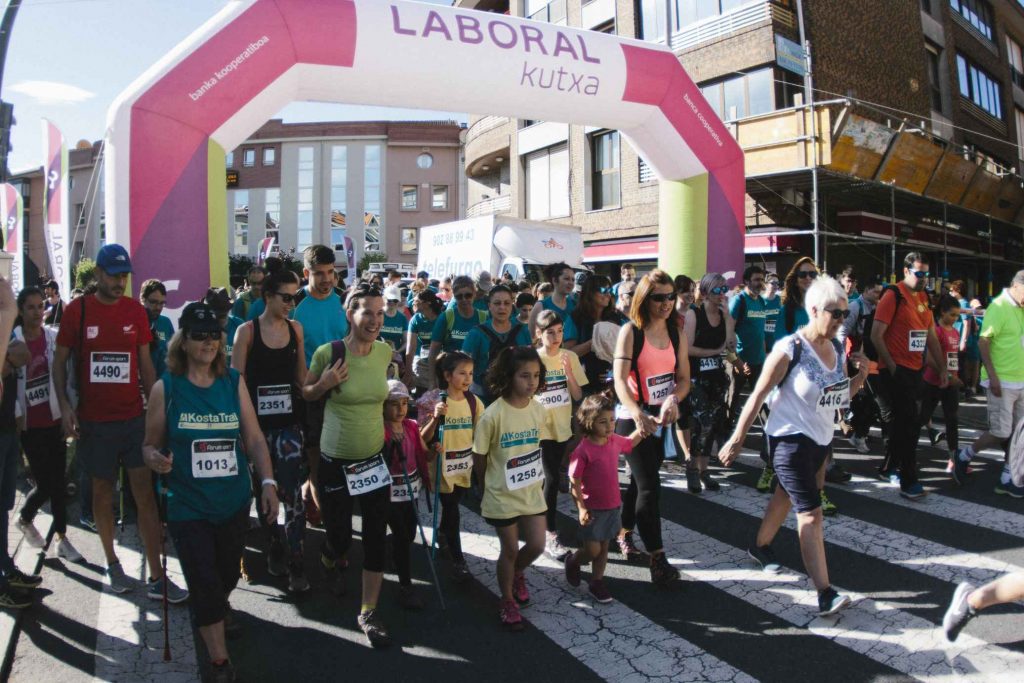 The 2019 edition of Kosta Trail is divided into 3 modalities: Mountain Half Marathon (21 km), Mountain Hike (20 km) and Family Hike (10 km) so people of all ages, conditions and requirements can take part.
In addition, Team One Diabetes Challenge (www.team-one.es) of the 'Spanish Association for Sport with Diabetes' will again be collaborating. They will set up measuring and insulin posts at the different provisioning points so all diabetic runners can safely take part. Kosta Trail will meet its aim of fostering sport, inclusion and solidarity, for yet another year.
THANKS to Forum Sport, Salomon and Laboral Kutxa for their enormous work and awareness in these 14 editions of Kosta Trail, likewise for choosing Foundation GaituzSport Fundazioa as this year's beneficiary, going one step further in fostering and supporting inclusion via sport.
Further information:
All information on Kosta Trail is available in their social network profiles, with the competition on Facebook (www.facebook.com/kostatrail) and Twitter (@kostatrail), where you can follow all the competition innovations, interact with other runners, received advice and recommendations regarding training, etc.
#kostatrail2019