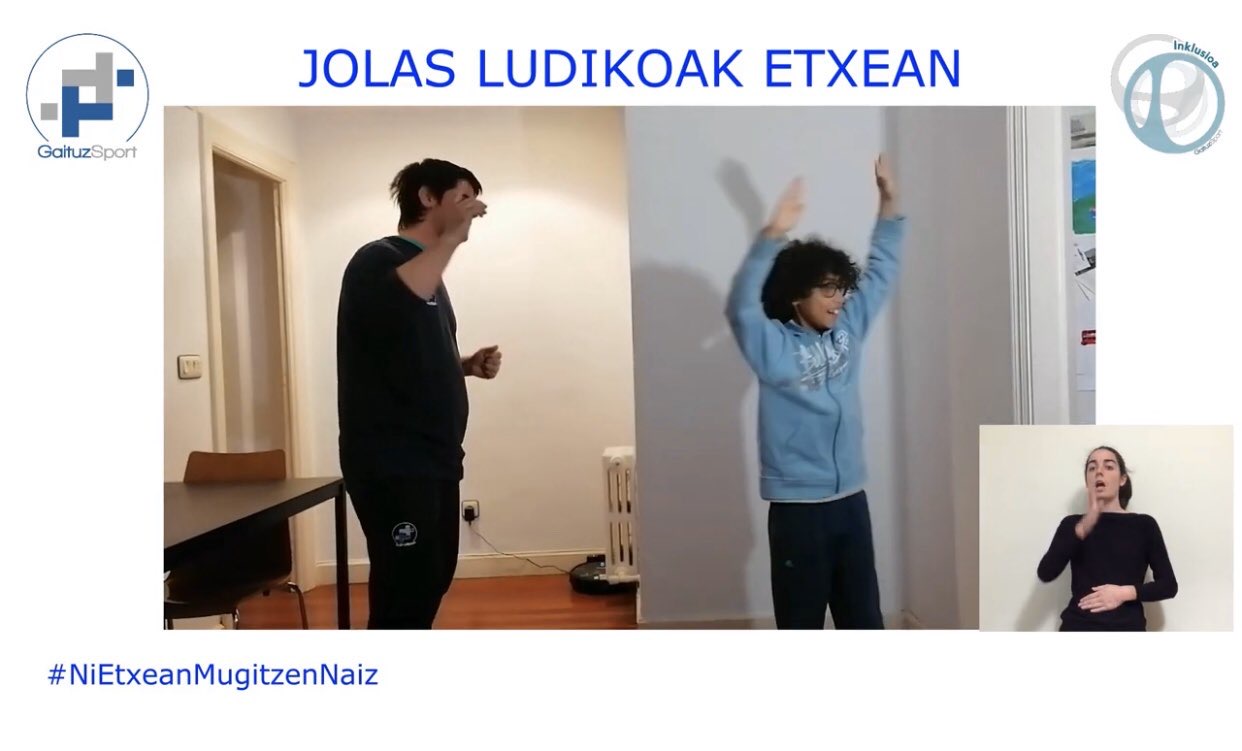 Interview with PORFIRIO HERNÁNDEZ ZUBIZARRETA, Psychiatrist. Chairman of GaituzSport
 "We're going to come out of this stronger and more united than ever"
COVID-19 the serious global health crisis has led to a period of long confinement, a situation which we have never experienced, is causing us uncertainty not to mention placing us in a situation of particular vulnerability in the form of fear, anxiety, desperation and finally even depression. A perverse circle of added suffering between the attention this infectious process requires and the alterations which isolation, leisure and the psychical expressions accompanying the same. We chatted with Porfirio Hernández Zubizarreta, Psychiatrist and Chairman of GaituzSport about our mental health during confinement.
This is the first time we've faced a health crisis on this scale. Would it help us to accept this quarantine as an exercise of voluntary responsibility? Exactly! For the majority of people affected by this situation, it's an absolutely novel experience with imposed measures. But then, the coronavirus which has caused this is likewise novel in its behaviour, effects, etc. The uncertainty generated by all this surpasses us, leading us to look for culprits; even initially rejecting what's been proposed due to anger, and later acceptance of the fact is due more to fear, which is the origin of our mental discomfort.
Paradoxically, we can deal with this discomfort with the aid of will and what we do, simply although not always easily, from a positive outlook of not being able to go out, a change in our habits in particular our activity.
Transform the 'why' of the event in itself  into 'why' do it, is the first basic step to dealing with the secondary consequences of all this. The aim is not so much about not being afraid or concerned which are natural emotions but rather giving them a purpose. The idea is to understand our isolation is not only a question of looking after our health but that we're also contributing to the common good. If we accept it as an exercise in collective responsibility then the situation will have a purpose and we can deal with it in a healthier less worrying manner.
What recommendations could we give the general public to withstand this situation as best as possible?
Understanding that with our separation and isolation we're contributing to saving lives which is a good start.
There are some more specific measures which can help us stop 'mulling things over' the inevitable: avoid excess information, generator of great anxiety, particularly since it's replete with falsehoods, conjectures, contradictions, etc. Obtain information from more reliable official sources once a day, which is sufficient to know what's going on. Then spend the rest of the day doing other things which fill our time positively. Stay in contact with loved ones through technology, and keep mentally and physically active, which is decisive in preventing psychical alterations.
Technology provides us with a thousand and one different possibilities to occupy our minds, but as important as that is, so is the way we take care of our physical state through exercise and physical activity. We've got to make sure sedentarism doesn't become the perverse companion of coronavirus. The big difference is that regarding one of them there's not a lot we can do except follow the health authorities' guidelines, whereas on the other we can act personally and radically.
How does physical activity and sport help us in these circumstances?
It's essential because sedentarism and being unoccupied lives our mind free to churn over the same things, constantly looking for symptoms in our body which threaten us, and is one of the effects of floating anxiety in these emergency situations.
The worst part is that in the end we 'somatising' that anxiety, finding signs of what we're looking for. So, physical activity is not only provides proven benefits in any situation, it's also a magnificent antidote, because on the one hand it occupies our time and on the other it generate signs of health and well-being, i.e. proof our machinery works. Furthermore, it contributes to organising our time, having expectations beyond sedentarism and all its physical and mental damage.
We can't go out, yet technology connects us. Does talking, keeping contact help us release anxiety and stress?
Keeping in contact via technology is a socialisation substitute, making it an extraordinary weapon right now. Nevertheless, we've got to make sure this contact doesn't become a wider area for sharing thoughts, news, rumours, etc., about the virus, because then it becomes a bolster for all the foregoing bad things mentioned.
In the case of the disABLED, is there any special advice or recommendation?
We the disabled form a heterogeneous group, in fact, I'd venture to say without risk of getting it wrong that as with everyone else, each of us are totally different. That's why nothing different occurs to me with regard to the backdrop, i.e. about what to do in this situation in relation to the rest of the population. What I would change; however, is in how to implement those suggestions in each individual. We can of course mention specific aspects according to groups with different disabilities, which help us to specify those forms, which in the end will have to be applied to each unique different person.
Can you be specific about any of these groups, any specificity?
Well, the intellectually impaired for example, have the greatest difficulty in comprehending the situation and scope of the problem. That's why in those groups with greater autonomy, time must be spent to ensure our explanation has been fully comprehended (easy reading) regarding the most important aspects. And in terms of specific practice, any action that increases activity, for example, make them responsible for running errands within their scope which enable them to break the monotony (a great risk is adhesion to routine and sedentarism), help neighbours who need assistance (do errands for the elderly or with someone with a disability that hinders or impedes them from doing them); and the practice of a physical exercise routine created by specialists for each person and their circumstances.
The ASD collective and their families for whom this situation is particularly difficult, and more complex, having to live the changes and breaks from their daily routines with enormous difficulty; not to mention having to stay at home is new for everyone so new routines have to be created. In the case of this collective, we've got to try and help them, for instance in creating new timetables, activity sequences (get up, have breakfast, etc.), including physical exercise like everyone else, but without forgetting this requires adaptation to the specific person and by specialists.
I mustn't forget the mentally impaired who for obvious reasons are the most vulnerable to the psychical sequelae of this situation. Try to maintain the necessary regular psychotherapeutic support (telephone, Email, Skype, etc.), if there were any, as they seem to be generalised needs associated with mobilising activities  and preferences of each.
Regarding the 3 groups mentioned it's necessary for politicians to contemplate pursuant to law, the exceptionality of being able to go out of their homes, alone or accompanied to counter the accumulation of anxiety and stress particularly accentuated in these 3 collectives.
COVID-19 is a new virus, and as such generates greater fear. So far the most vulnerable collectives are the elderly and people with prior pathologies. How can we stop them from panicking?
All the foregoing is aimed at preventing or where appropriate minimising the psychical effects of this situation.
Panic is the manifestation of total loss of control, with the sensation of imminent death, without helping us to take actions to counter these effects. We could say that panic is the culmination of a state of uncontrolled anxiety. Everything mentioned above is the antidote to all this and logically a way of avoiding panic as a culmination of anxiety and stress generated.
The vast majority of the Basque Country and entire Spanish State is setting an example as a solidarity state, expressing our united and collaborative responsibility. Is it essential to uphold this spirit of unity to survive?
Undoubtedly! The health authorities are categorical in this respect, in that the only way to alleviate the enormous impact of coronavirus on our society and many other countries is unified action. Each and every one within the role and possibilities, is responsible for and the active protagonist for this to be overcome as soon as possible and with as little impact of any kind. So, unless we all do this, then it won't serve for much, since we're responsible for the common good.
Do difficult situations bring out the best in us?
Indeed yes! You only have to see the actions of support constantly being generated by our nation; and the fact is, there's no room for half-hearted attempts in extreme situations.
The Basque Country has been an example of solidarity on many occasions, and at this time continues to show examples of its solidity and working in common.
One last message of encouragement…
To quote the song:  "the battle's going to be intimidating and victory a flower…" We're going to have some difficult weeks, and this nation has always tackled difficulties face on and this is another of these. We're going to come out stronger and more united than ever.