Pilar Ciruela is an example of overcoming adversity through sport. After her serious accident she had to relearn how to walk, talk, etc. Today she leads a normal life.

"The doctor told me I'd never walk again, talk, and of course never have children due to my sequelae…. Well, guess what! I can walk, talk and I don't have one child but two"

"Doing physical exercise particularly swimming, has not only helped me recover physically but also mentally. It's been critical in controlling my emotions, fear, insecurity and anxiety"

The health programme Osakirol, for people who are disabled due to an accident or industrial illness, helps them integrate socially and get back to normal via physical activity
 PILAR CIRUELA was 27 and Ertzaina[i], when a terrible car accident changed her life. They told her she'd never walk again, talk or have children. Sport, her only "bad" habit in life, became her great ally.
Today, at 49 Pilar lives a "normal" life despite the sequelae, i.e. a cognitive affection of recent memory, which has prevented her from going back to work; however, she takes it all in her stride with a great sense of humour; and physically the loss of her left kneecap. This is Pilar Ciruela's story, like many other anonymous ones, examples of overcoming difficulties after a traumatic episode, which deserve to be told.
"Pilar recalls it was a very foggy Tuesday and like every day I drove to work, when a huge lorry changed direction when he should and despite braking, the impact was tremendous and I was trapped in my car, and the fire brigade had to get me. They performed a tracheotomy on me in the ambulance on the way to Txagorritxu Hospital in Vitoria – Gasteiz".
After a lengthy operation on the multiple fractures sustained in her legs, knees, thigh bones, hips and her jaw broken in three places; a scanner showed she had two blood clots in her head requiring another operation urgently at Cruces Hospital in Bilbao…"I was almost dead, 16 days in coma and 2 weeks on assisted ventilation".
But she came back to life and had to start from scratch, to learn how to walk, talk, etc. "The doctor said I'd be unable to do virtually anything, much less have children due to my sequelae. Well, guess what! I can walk, talk and I don't have one child but two", she proudly states with a big smile.
Sport her sole "bad" habit became critical in her recovery
Sport has been a critical factor in her recovery, for such an active woman who since she was a child has been a scout, played frontenis[ii], enjoyed hiking and cycling. She even became Araba's chess champion. Her desire to improve and her positive attitude, helped her start to fight, little by little; in a long very tough recovery and rehabilitation process.
"One day while I was in the hospital room and couldn't move; but I threw myself onto the floor, because I couldn't being in bed any longer and dragged myself to the bathroom, when a nurse came on the scene and after reading me the riot act brought me a wheelchair, and that's how I started.  I did double the rehabilitation I was told because I wanted to walk again by myself. I  worked hard and managed it." A year later I was still limping and had no balance, so I decided to go swimming every day until I managed this too.
"Doing physical exercise has helped me recover not only physically but has also been essential from a psychological viewpoint, because it's helped me control my emotions, fear, insecurity, and anxiety generated by such a traumatic situation" Pilar confessed. The discipline and constancy sports activity provide were essential in her rehabilitation process.
Osakirol Programme: Oskar and Pilar, instructor and user
Osakirol programme session at Almudena Cid Centre in Vitoria – Gasteiz.
Pilar takes part in the Osakirol health programme passed by Mutualia Special Benefits Commission, for people disabled due to an accident or industrial illness at the Almudena Cid Centre in  Vitoria – Gasteiz. The programme fostered and co-ordinated by  GaituzSport, is also available in Donostia, Hegalak Centre and in Bilbao at the San Ignacio Sports Centre.
"I'm delighted with the exercises, especially in the water, swimming does me a lot of good, and I come out relaxed. Then the exercises in the room in the gym are great especially to strengthen my back. The group is very pleasant, and the instructors tell us which exercises are the most appropriate for each, i.e. they're customised to our needs, which gives you a lot of confidence".
Pilar recommends it: "because after the sessions you feel much better physically, and I arrive home with a calmness… It also helps you psychologically because it helps you to integrate".
OSKAR LACALZADA, is a physical exercise instructor with over 11 years' experience working with people with functional diversity at Zuzenak Foundation, and is also the instructor responsible  for the GaituzSport Osakirol programme which Pilar takes part in at Vitoria – Gasteiz.
What exercises do you do with the group of users?
Exercises are done two days in the gym and one in the swimming pool. We try to personalise the guidelines as much as possible, because we have a very heterogeneous group. They're people who come here after an industrial accident and having overcome the first medical stage, the hardest with Mutualia's rehabilitation period. They arrive here to start physical exercise and normalise their daily lives, eliminating fears; and with the right guidelines start doing physical exercise.
It's a highly disciplined group, because they've seen the work they're doing, both postural and strengthening is very good for their pathologies.
Oskar,  What are the benefits of the Osakirol programme?
Physical, improvement in their pathology, strengthening of muscles next to the injured part. Posturally they have to be more careful because they can hurt themselves and require professional guidance. And from an emotional viewpoint, they gain self-confidence, and realise they can do a whole load of things they didn't think they were able to.
When they arrive, they've gone through a lot of painful periods, their pathologies have improved but not as much as they would like. I always ask them to give the programme and me as a professional a chance. And in fact everyone who's come through here are very happy and the majority continue with us. The Osakirol programme is also a way of regaining normality and social integration.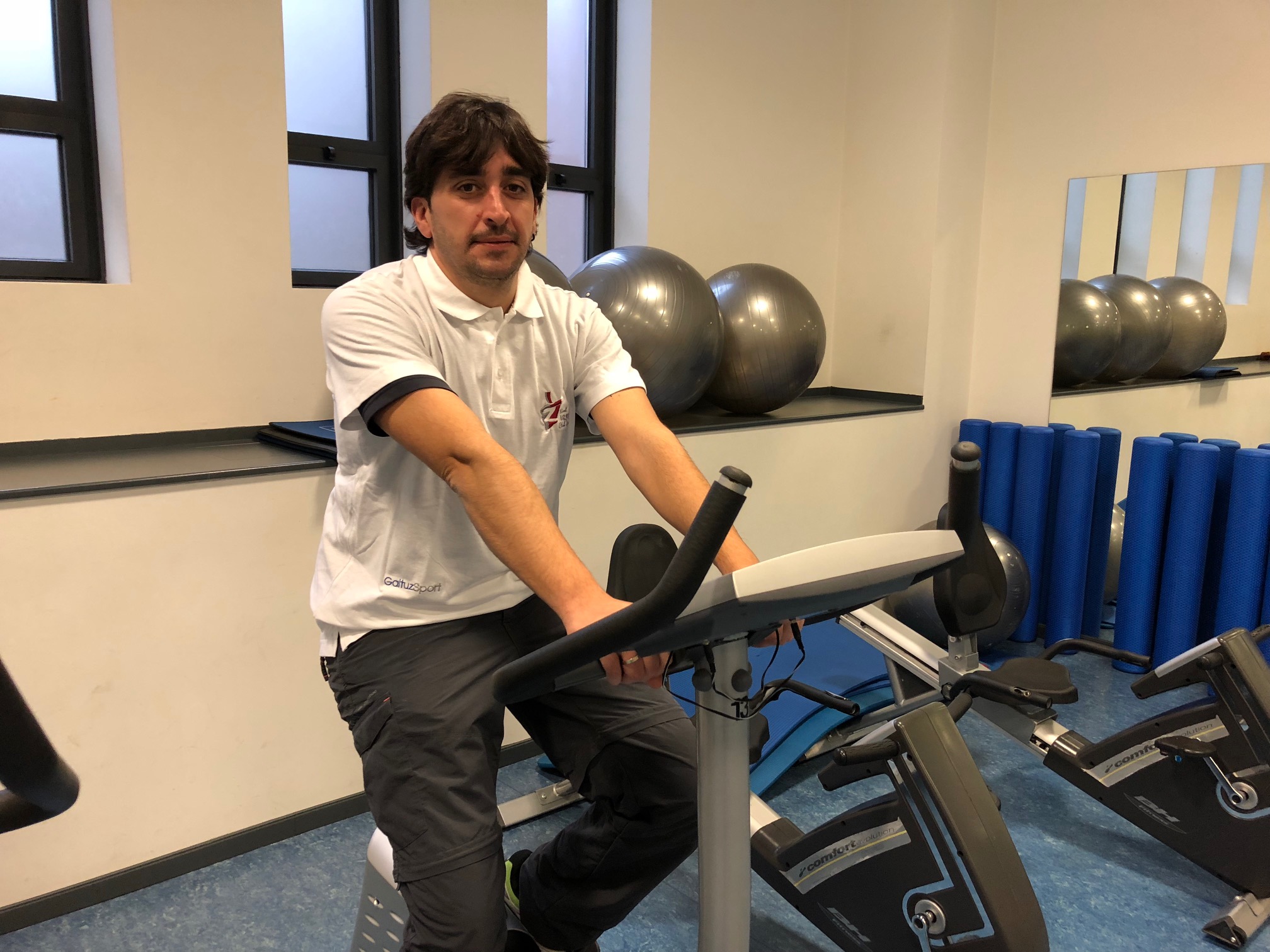 Oskar Lacalzada, Osakirol Programme Instructor, highlights the physical and mental benefits for everyone from doing physical exercise and sports.
As a professional, How do you value the results of the people who've been in this programme?
It's highly satisfactory to see them improve day by day. People with such severe pathologies, and who with some specific postural guidelines and working on strengthening see how their quality of life improves, which is highly rewarding.
Despite WHO recommendations and those of healthcare professionals that everyone should do physical exercise and/or sport, an extremely high percentage of people are sedentary. What would you say to these people to encourage them to start?
It's basic, it's an essential part to stay healthy, control your levels of cholesterol, HBP, obesity, etc. Risk factors which can cause us severe pathologies. Sooner or later that sedentary population is in for a shock. There are loads of options for doing physical exercise or sport, we each have to find the one we like best and adapts to our needs, but it's essential to move and be active.
Today's a good day to start … Like Pilar and many other people who've discovered physical exercise and sport are their allies in improving their health and quality of life…
 [i] Ertzaintza – Basque Police Force , Ertzaina – a member of said Force https://en.wikipedia.org/wiki/Ertzaintza
[ii] Frontenis – https://en.wikipedia.org/wiki/Frontenis