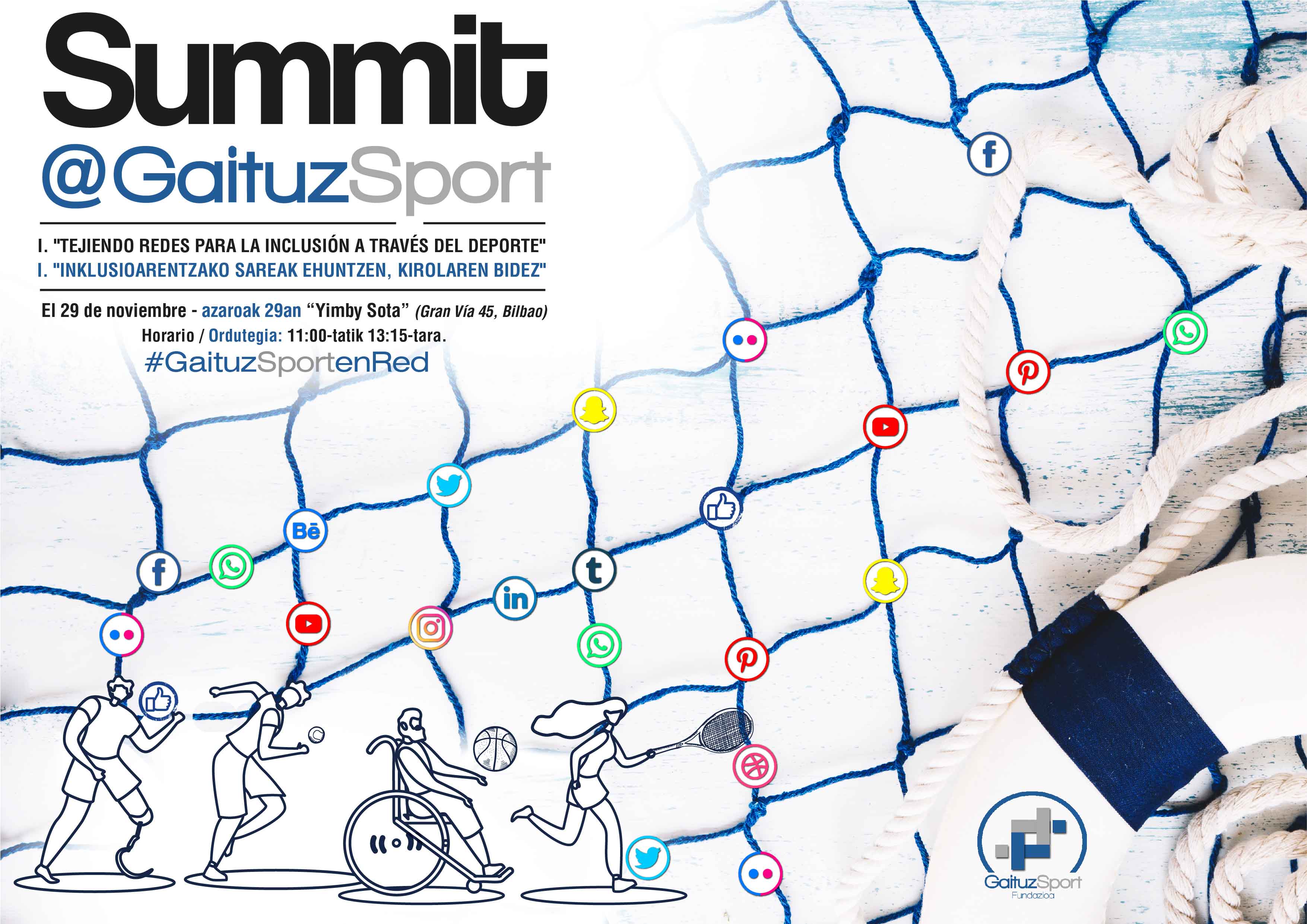 An innovative interactive debate to exchange experiences and identify improvement proposals will be held in Bilbao on 29th November.

With the participation of institutional representatives, sports people and specialists in sports, disABILITY, education and health.

With limited seating, it can be followed via STREAMING and you can take part and comment via the hashtag #GaituzSportenRed
The Foundation GaituzSport Fundazioa has organised the 1st Conference 'Weaving networks for inclusion via sport' to be held at Yimby, Bilbao on 29th November with the sponsorship of the Basque Government, Bilbao City Council,Laboral Kutxa and Kirolene.
This first GaituzSPORT Summit arises from the need to create areas for debate and reflection within the scope of inclusion in sport.
Just like Nelson Mandela, at GaituzSport we believe in the power of sport as a social transformation tool.An advanced society like ours must ensure the inclusion of all collectives and sport is a great integration channel.
Inclusion is the attitude, tendency or policy of integrating everybody in society, so they can take part and contribute to it, likewise benefit from this process.
Inclusion seeks to achieve all individuals or social groups, particularly those in conditions of segregation or margination to have equal possibilities and opportunities to fulfil themselves as individuals.
'Weaving networks for inclusion via sport' is an INNOVATIVE & INTERACTIVE FORUM, where all the social agents' voices can be heard and analyse the current situation of inclusion via sport and identify improvement proposals.
Follow the Conference via STREAMING.
 GOALS:
Generate debate and reflection to foster real inclusion in our society
Give all social agents a voice to advance towards a common goal, i.e. achieve a fairer more equal society where everyone has the same opportunities
Make visible and acknowledge sport as a social inclusion channel and tool.
Break stereotypes associated with the disABLED and doing physical activity and sport.
Socialise the principles of social integration of differences
Identify those factors preventing real inclusion
Show the benefits of physical activity and sports for the entire population
Share positive actions about disability thanks to sport
Exchange inclusive experiences
Learn to value the 'capacity' of diversity through sport
Propose improvement proposals and include the conclusions to be subsequently shared in a summarised document on social networks
 PROGRAMME:
2 DEBATE TABLES:
Taking part in the conference will be: institutional representatives, sports people, managers of bodies and experts who work with the disABLED and in a sports environment; specialists in education, health and communication.
11:00am – 11:05am: Welcome & Presentation
11:05am – 11:15am:  Introduction – Experience
11:15am – 12:00pm Table 1: 'Real inclusion as a social paradigm.' What is inclusion? Why is it necessary? Who benefits?
12:00pm – 1:15pm Table 2: Debate: 'Sport as a social inclusion tool' How do we achieve inclusion through sport? DisABILITY, health, education and sport. Women and sport. Values.
'Weaving networks for inclusion via sport' is a FORUM to share, debate and reflect.
INNOVATIVE
In aDYNAMIC format via questions the moderators pose to the participants.
With the PARTICIPATIONof the attending public.
A DIGITAL conference to followvía STREAMING,to follow and share in real time on networks with the hashtag #GaituzSportenRed
EVERYONE will have a voice and be PROTAGONISTS, on equal footing.
(We'll enjoy a Cocktail – Networking at the end of the conference)-
We're waiting for you!!
 CONFERENCE DETAILS:
Place: Bilbao. Espacio Yimby Sota, 3ª Planta. (Calle Gran Vía, 45)
Date: 29th November
Timetable: 11:00am – 1:15pm
Limited seating. You must register atcomunicación@gaituzsport.eus
FOR AN INCLUSIVE SOCIETY! 
PROGRAM: