ADAPTED SPORTS IN BILBAO KIROLAK AND GALDAKAO
GaituzSport collaborates with the company Guedan, to render services for Bilbao Kirolak Adapted Sports programmes likewise with those Galdakao Town Council has been promoting since 1st October.
12 GaituzSport instructors specialised in sporting activities for the disabled impart courses from Monday to Sunday at the Bilbao sports centres of: San Inazio, Rekalde, Txurdinaga and Atxuri. At the Urreta sports centre in Galdakao 2 instructors impart swimming and multisport courses.
Everyone taking part in the courses must undergo an initial qualified functional assessment, which includes each person's capacities, to obtain the greatest benefit from the different activities. GaituzSport professionals provide follow-up and assessment of everyone in the groups throughout the course.
These programmes foster and facilitate access to sports for all disabled people from age 4 onwards. Furthermore, their entitlement to the necessary accessible facilities and specialised instructors is guaranteed, so they can receive the best assistance in relation to diversity and in the same conditions as the rest of the population.
 ACTIVITIES IN BILBAO KIROLAK ADAPTED SPORTS COURSES
AEROBIC

POSTURAL CORRECTION
FITNESS
MULTISPORTS
RACKET MULTISPORTS
SWIMMING
PADDLE TENNIS
PSYCHOMOTRICITY
Collaborators: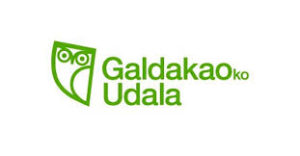 Para más información:
info@gaituzsport.eus / Tel: 622 022 063