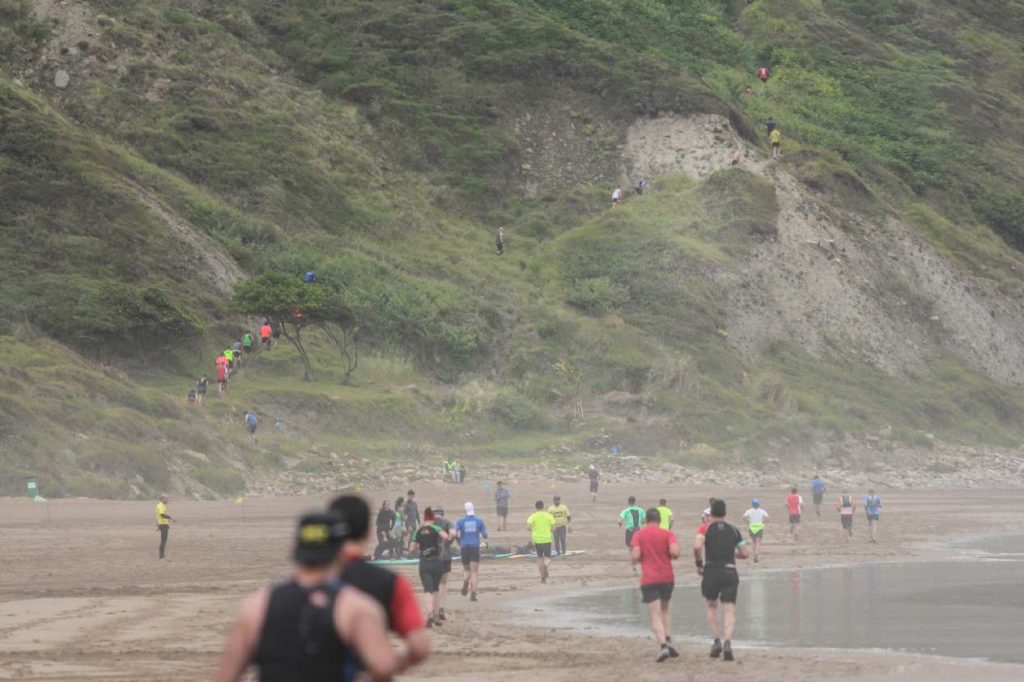 The 15th edition of Kosta Trail organised by Forum Sport, Salomon and Laboral Kutxa in favour of the GaituzSport Foundation which fosters the inclusion of everyone with or without disABILITY through sport will be held on 14th June.
The Kosta Trail, which runs along the beautiful Uribe Kosta mountain and sea coastline will be more inclusive and environment friendly in this edition. The organisation has undertaken to reduce the use of paper and plastic.
A day combining sport, solidarity, health, inclusion and environment friendliness, with 3 options for participation: Half Mountain Marathon (21 km), Mountain Hike (20 km) and Family Hike (7 km).
The 15th edition of Kosta Trail is approaching, thanks to sponsorship from Forum Sport, Salomon and Laboral Kutxa, runners and hikers will be enjoying a unique experience along the beautiful cliffs of Uribe Kosta on 14th June.
A day combining sport, solidarity, health, inclusion and environment friendliness, with 3 options for participation: Half Mountain Marathon (21 km), Mountain Hike (20 km) and Family Hike (7km).
Since its creation the event has echoed its solidarity character and part of this year's collection of funds will go to the Foundation GaituzSport Fundazioa, which repeats as the beneficiary. Last year 11,000 euros were collected and assigned to the development of innovative strategies and carrying out programmes where the disABLED can enjoy physical activity and sport in equal conditions improving their quality of life. The aim is to build a fair inclusive equal society with respect for diversity through physical activity, sport, education and health.
For GaituzSport "inclusion is a long distance race and sport a great social change and transformation tool to achieve a fairer more equal inclusive and diverse world"; because everyone is equal when doing sport, it invites you to keep going, fosters co-existence between the ABLED and disABLED; and improves physical and mental well-being. This philosophy epitomises the Kosta Trail spirit, a race which goes beyond time records, committing to sport as an integration channel fostering respect for the diversity of everyone. It goes without saying this is the Kosta Trail success.
 Commitment to 'Less Plastic'
Kosta Trail offers its participants the possibility of enjoying a sporting event and incredible landscapes at the same time. The natural enclaves through which the race runs are both unique and spectacular; therefore, we must generate the least environmental impact for their preservation. So not only is this edition one of inclusion and solidarity but also the Kosta Trail commitment to the environment and Uribe Kosta surroundings via the reduction in plastic use during the race.
The organisation wants to make all the runners and hikers aware of this cause and involve them in the same, so they will be carrying out several actions.
One of the most important measures to be adopted with the greatest repercussion for participants is that bottles of water will not be handed out at the provisioning points. In this way, the hikers will practise self-sufficiency,since these provisioning points will only provide food; therefore, participants are advised to bring their own water recipient which can be refilled at the fountains along the route. Thanks to the collaboration of Sopela Town Council, which is working on the possibility of adding extra water points in the start-finish area.
The elimination of water bottles and isotonic drinks also means a reduction in the use of lorries in the logistics section of the reaction by not having to move over 12,000 along the route. Only the race provisioning points will have bottles of water since it is a competition; however, use of the same will be regulated delimiting the area to ensure no runner leaves the provisioning point unless he/she deposits the rubbish in the points enabled for the same.
To preserve and make responsible use of the environment the plastic bags containing the numbers and T-shirts will be eliminated meaning the elimination of  9,000 bags altogether, and replaced by fabric bags with a longer shelf-life, likewise the T-shirts will not be packaged individually. A single plastic bag can take 50 years to degrade, without mentioning how its impact contaminates natural ecosystems like the sea where bags can be lethal for animals on ingesting or becoming entangled in them.
Kosta Trail doesn't use paint, sprays or plastic tapes to mark the race route. In this edition, reusable bollards and biodegradable tapes manufactured from vegetable starch pursuant to European standard UNE – EN 13432 which determines the requirements for degradable packaging and recipients. This means they won't contaminate when discarded because on contact with other organic material their decomposition into a natural fertiliser begins.
With regard to paper, its use will be minimised by eliminating the registration pamphlets in the Forum Sport retailers, as all registrations will be done online.  In any event, the paper required for posters, signage, etc., will bear the PEFC stamp (Programme for the Endorsement of Forest Certification) which foster sustainable forestry management and facilitates a responsible supply chain; furthermore, leftover material from previous editions will be reused and made use of.
MANY THANKS to Forum Sport, Salomon and Laboral Kutxa for their great work and awareness in these 15 editions of Kosta Trail,  likewise for choosing yet again GaituzSport Fundazioa Foundation as its beneficiary, fostering and supporting inclusion through sport.
 Further information:
All the measures adopted to ensure Kosta Trail is an event committed to the environment can be consulted along with the rest of the event information at www.kostatrail.com, which will be available in a few days'  time, likewise in their Facebook and Twitter profiles respectively: www.facebook.com/kostatrailand @kostatrail where runners can also exchange advice, recommendations and sensations regarding the event.